[mlrates state="FL" size="narrow"]
On Mar 13, 2016, at 3:13 PM, Nancy wrote:
I cannot find enough complimentary words and phrases to describe the outstanding patience and service given to my sister-in-law by Rodney and everyone at Yankeetown Realty during and after the sale of her property in Inglis, Florida!!! I believe I have a lifetime friend. Thank you, Rodney.
Nancy Hodges
Beaumont, Texas
Nancy Hodges
Yankeetown Florida
Yankeetown Florida offers some of the best waterfront properties in Citrus County. One of the most charming and unique towns on the Nature Coast is named Yankeetown.  It is located in South Levy County on the north side of the Withlacoochee River as it winds its way into the Gulf of Mexico. Yankeetown Florida was founded in 1923 by an Indiana man named Armanis Knotts.  He came to the area and brought his friends for the hunting and fishing.  Legend is that the local postman gave the area its name because of all the "Yankee" visitors.  During that time, most of the locals lived in a nearby area the northern visitors dubbed Crackertown, which was later annexed by the Town of Inglis.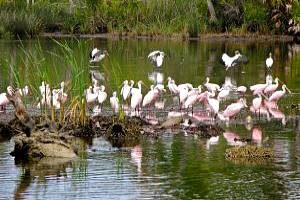 Yankeetown only has about 500 residents. It has been said that folks in Yankeetown are going no place, but are thoroughly enjoying the ride. The town has little commercial real estate, but tree-lined Riverside Drive has many beautiful waterfront homes.  For Florida residents who don't know where it is located, take State Road 40 from Ormond Beach on the East Coast and drive due west. The highway crosses the state and dead ends in Yankeetown at a boat ramp on the Withlacoochee River where it exits into the Gulf.
If fun on the water is your thing, then Yankeetown is a great place to enjoy canoeing, kayaking, boating, diving, and bird watching.  The area has some of the best saltwater fishing in the entire State of Florida.  Because of numerous oyster bars and an occasional rock, local knowledge is recommended for navigation the first time in the Withlacoochee Bay area.  Therefore, hiring a local fishing guide is a good idea. Besides, most likely he'll put you on the fish your first day out.
If you're looking for a building lot, some acreage, a waterfront home, or any other Yankeetown real estate, call Rodney Walters.  I can help you find the perfect place.