On Mar 13, 2016, at 3:13 PM, Nancy wrote:
I cannot find enough complimentary words and phrases to describe the outstanding patience and service given to my sister-in-law by Rodney and everyone at Yankeetown Realty during and after the sale of her property in Inglis, Florida!!! I believe I have a lifetime friend. Thank you, Rodney.
Nancy Hodges
Beaumont, Texas
Inglis Real Estate
Inglis real estate offers old world Florida waterfront charm. The town of Inglis was incorporated in 1955 and is located at the intersection of US 19 and State Road 40 on the north side of the Withlacoochee River.  It appears to have been named after Captain John C. Inglis, an officer in the Confederate Army who developed Port Inglis on Chambers Island at the mouth of the river.  The town motto is "Gateway to the Gulf" and they are proud of the fact that Elvis Presley once made a movie in the area.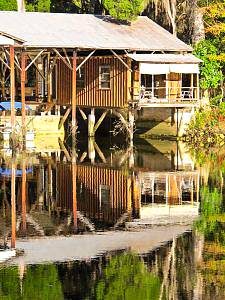 Adjacent to the town of Yankeetown, Inglis is a quiet, small town away from the densely populated areas of Florida.  The majority of the residents of Inglis are quite content with the fact that the town has only one stoplight.  Inglis is located 11 miles north of Crystal River and less than an hour away from both Ocala and Gainesville.  Fishing is paramount in the area for both inshore and deep sea species. Additional outdoor activities are scalloping, kayaking, diving, snorkeling and serious bird watching.
The Withlacoochee River is designated and one of Florida's pristine waterways.  It is approximately 150 miles long.  The headwaters are in the Green Swamp in Central Florida and it flows in a northerly direction, finally exiting into the Gulf of Mexico at Yankeetown.
Inglis real estate offers you a chance to escape to a slower paced environment like the Florida of 50 years ago. Take a moment to view the current MLS inventory of Inglis real estate at the bottom of this page. Thank you.